 
Active wheelchair trial country
The wheelchair Trial Country of Forta is perfect to use for the countryside or the mountains and can be used perfectly as an everyday chair. It has all many amenities such as folding back, removable axles terrain, etc. The user can save space clasping on the road.
- Wheelchair SUV designed and manufactured for use in rough terrain as the field or mountain.

- Made of polymer and aluminum.

- Highly resistant and comfortable.

- Can be used as usual chair wheels.

- Absorbs uneven ground thanks to its lateral arc-shaped plates.

- The user can use the system of folding the wheelchair to shake him sitting, allowing through narrow spaces.

- Folding backrest.

- Off-road wheels.

- Removable Axles (QuickRelease).

- Rubber cuffs.

- Removable and adjustable footrests in height without using tools.

- Removable arm rests manually.

- Four sizes available depending on the desired width (38, 41, 44, 46).

- Weight: 15.5 kg.

- Resistance of 125 kg.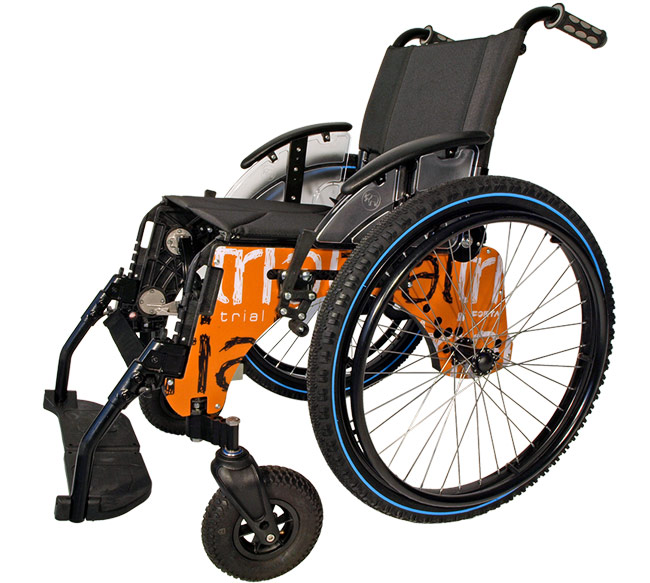 HEIGHT 90 cm
LENGTH 100 cm
SEAT HEIGHT 52 cm
SEAT DEPTH 43 cm
WHEELFRONT 200 mm
Length 81 cm FOOTRESTS
WEIGHT 15.5 kg
RESISTANCE 125 kg
TOTAL WIDTH 21 cm Size +