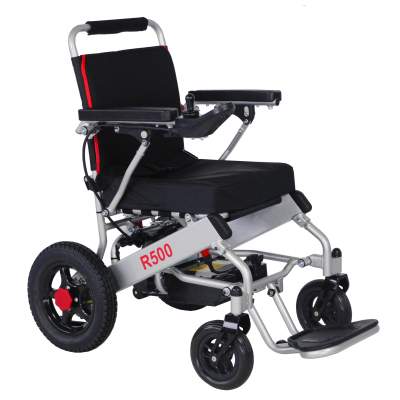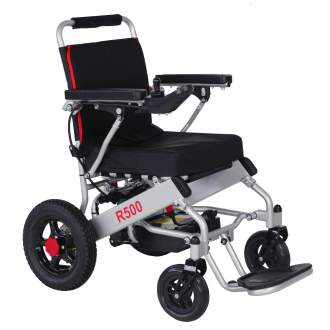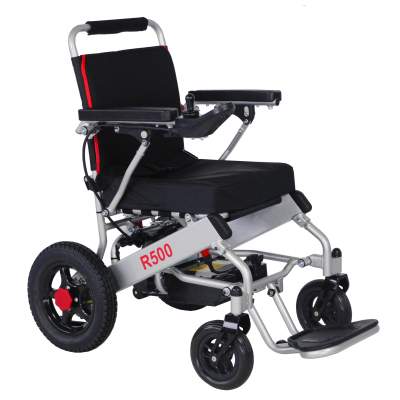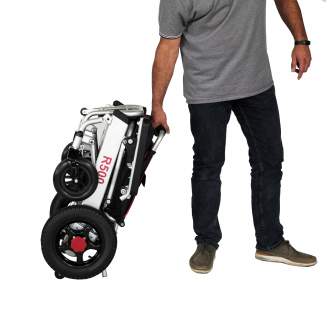  
R500 folding electric wheelchair
Super narrow electric wheelchair, only 60 cms
The R500 folding electric wheelchair has very compact dimensions, with a total width of only 60 cm and a length without footrest of 81 cm.

Its quick folding system allows it to be transported in most vehicles, all of which makes it an ideal chair to travel with it anywhere, giving its user total autonomy.

It incorporates a 20Ah Lithium battery with an approximate range of 20km. The battery is removable and allows charging outside the chair. It also incorporates another charger to charge directly to the Joystick / control.

250W powerful brushless motors. They offer greater performance and useful life.

80kg / m3 memory foam cushion. With polyurethane cover (waterproof and breathable) as standard.
Technical data
Width 60 cms
Length without footrest 81 cms
Length with footrest 96 cms
Visco seat 42x42 cms
Backrest height 45 cm
12´´ (300 mm) rear wheels
8´´ front wheels (200 mm.)
Maximum slope 10º
Autonomy approx . 20 kms
Total weight 28 kgs (3.5 battery)
Battery 24V 20Ah Li-ion
Maximum weight 100 kgs