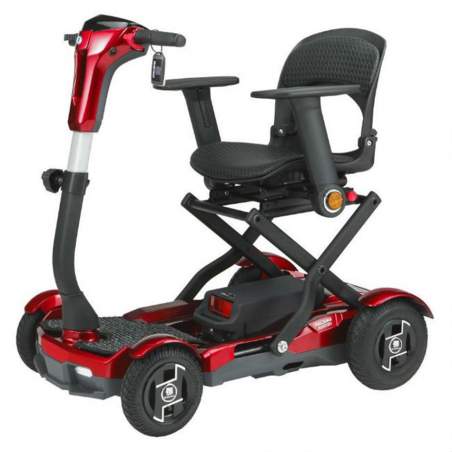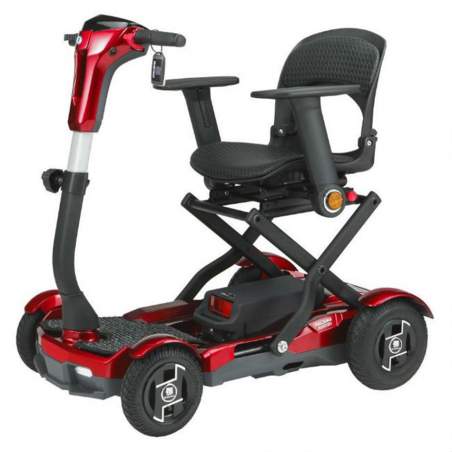  
Scooter I-Laser de Apex
The I-Laser is the scooter that folds and unfolds automatically by pressing the center button.

The most compact scooter on the market
Unique design
Great stability thanks to its 4 wheels
Design: The most compact scooter on the market. Its fast automatic folding allows it to be very easy to transport and store. To facilitate driving in those users who need it, its laser indicates the path of circulation. It has front and rear LED lights to see and be seen.

Compact and powerful: Thanks to its small dimensions, 91 cm unfolded and 48 cm folded, you can take it where
you want Its powerful 270W motor and 14.5 Ah batteries will allow you to get where others do not arrive.

Stable: Thanks to its 4 pneumatic wheels, this scooter provides greater ride comfort. Incorporate the System
Indigo whose structure provides greater stability in all lands.

Safe: It has a proximity key that allows you to lock and unlock the scooter just by approaching it.


Dimensions (length x width x height) 91 x 60 x 80-90 cm
Folded dimensions (length x width x height) 48 x 60 x 80 cm
Maximum weight supported 115 kg
Weight with batteries 35 kg
Weight without batteries 31 kg
Maximum speed 6 km / h
Maximum slope <100 kg up to 6º
Maximum slope † 100 kg up to 3º
Turning radius 127 cm
270W motor type
Front wheels 8 ". Pneumatic
9 " rear wheels . Pneumatic
Batteries 24 V 14, 5 Ah x 1 unit
External 2.5 Ah charger