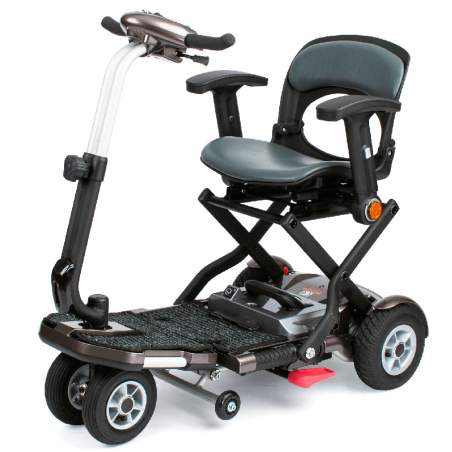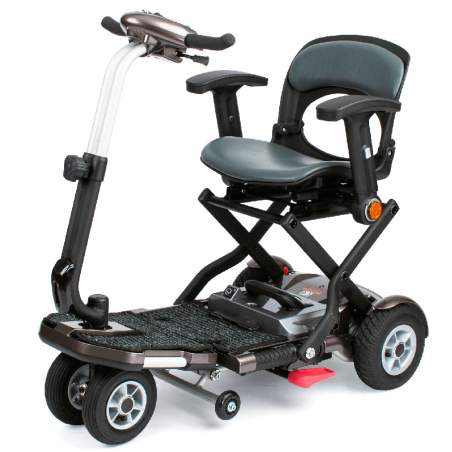  
Scooter i Brio Plus
Thei Brio Plus is the Scooterthat can be folded in an instant. It stands out for including armrests, front light and large pneumatic wheels./ p>
Thanks to its small dimensions, 96 x 53 x 87-100 cm (without armrests), you can take it wherever you want
• Comfortable: The armrests are adjustable in height and width and can be folded down facilitating access to the user.
It has pneumatic wheels (20x5 cm for the front and 23x6,5 cm for the rear) that provide greater comfort and allow the curbs to be raised more easily.

• Compact: Only measures 96 cm unfolded and 50 cm folded. It rotates in only 104 cm.

• Safe: With anti-roll wheels (lateral and rear) that guarantee the safety of the user and with safety key in the battery. It incorporates a LED front light that allows you to see and be seen.

• Easy to transport: With removable seat for easy transport. Its 4 wheels allow you to move it like a trolley once folded.

• Lightweight: Thanks to its lithium battery, its total weight is 27.3 kg.
Dimensions (length x width x height)96 x 53 x 87-100 cm
Dimensionis with armrests 96 x 55.5-58 x 87-100 cm
Maximum weight supported 115 kg
Weight with batteries 7.3 kg
Weight without batteries 24 kg
Maximum speed 6.5 km / h
Maximum slope <100 Kg up to 5º> 100 Kg up to 3º
Turning radius 104 cm
Engine type 270 W, 4-pole engine
Front wheels 20 x 5 cm. Pneumatic
Rear wheels 23 x 6.5 cm. Pneumatic
Batteries Lithium 24V 11.5 Ah x 1 unit
2.5 Amp charger , external, 110/240 Volt.