 
Scooter i Brio folding
TheI-Brio is the Apex Scooterthat can be folded in an instant. Thanks to its small dimensions you can take it wherever you want p>
It only measures 95.5 cm unfolded and 43 cm folded. Tour in only 102 cm

• Safe: With anti-roll wheels (lateral and rear) that guarantee the safety of the user and with safety key in the battery.

• Easy to transport: Its 4 wheels allow you to move it like a trolley once folded.

• Light: Thanks to its lithium battery, its total weight is 26 kg.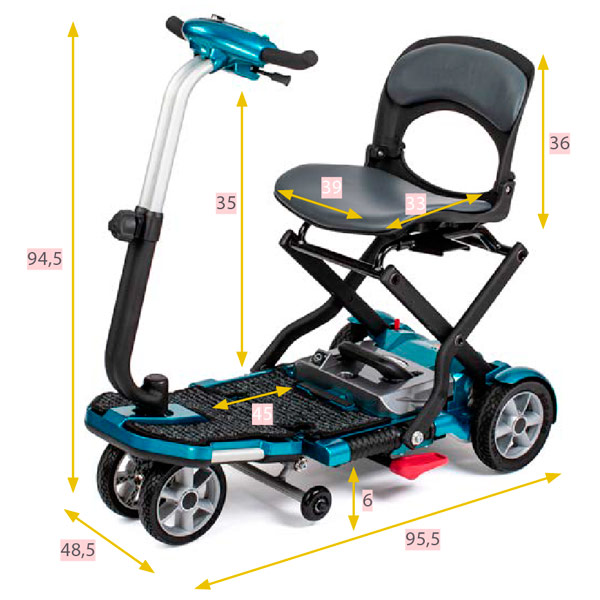 Dimensions (length x width x height) 95.5 x 48.5 x 94.5 cm
Maximum weight supported 115 kg
Weight with batteries 26 kg
Weight without batteries 23 kg
Maximum speed 6.5 km / h
Maximum slope <100 Kg up to 5º> 100 Kg up to 3º
Turning radius 102 cm
Engine type 269 ​​W, 4-pole engine
Front wheels 18 x 4 cm. Double solid
Rear wheels 20 x 5 cm. Double solid
Batteries Lithium 24V 11.5 Ah x 1 unit
2.5 Amp charger , external, 110/240 Volt.