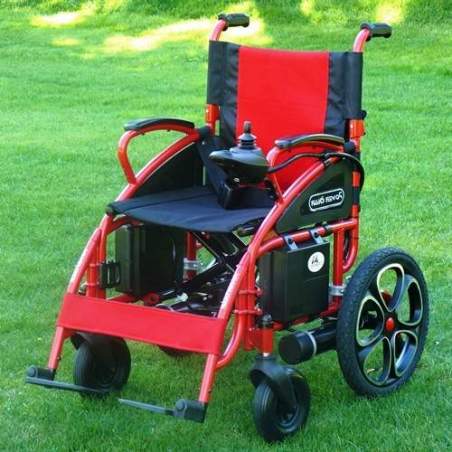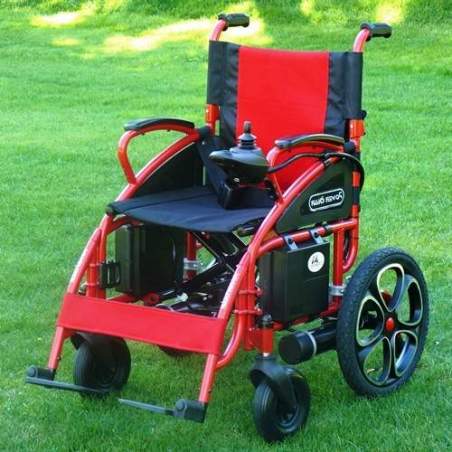  
Wheel Chair Release Power Chair Sport
Electric wheelchair Release Power Chair Sport. Equipped with a sporty design (bodywork and red upholstery, large wheels with Sport tires, black tires ...) and greater performance (engines 340W Sport, speed 8km / h ...), make this chair an ideal model for the Customer who values a good relationship design, functionality, price.
Enjoy the wheelchair with the most complete equipment with a sporty design and the best value in the market.
-Motor: 2x340W Sport - Batteries: 2x24Ah Speed max. 8km / h - Autonomy max. 20km Digital display - Joystick with progressive intensity
-Multiple adjustments for your greater comfort: Foldable in width, height and depth. Removable footrests, folding back ...
Body and upholstery in sports color, Engines 340W Sport, Speed 8 km / h, 40cm Pneumatic rear wheels, Sport alloy wheels, Black covers. USB jack on joystick for mobile charging
More Features of the Power Chair Sport Wheelchair
Joystick with digital display
Adaptable for right-handed and left-handed
5 speeds
Progressive acceleration intensity
Battery charge indicator
Sound buzzer
Seat belt
Joystick companion (optional)
Back case bag
Hand thrust handles
Anti-perspirant backrest and cushion pad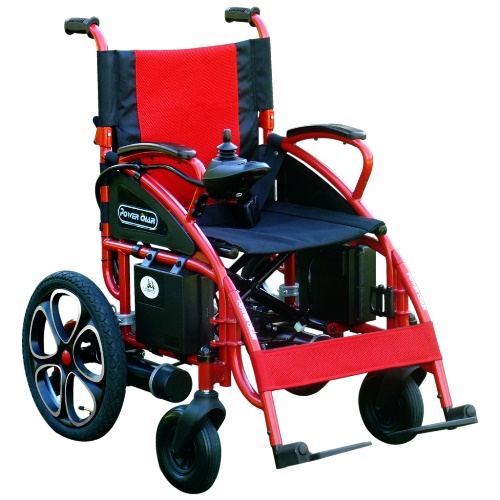 Folding wheelchair in length
So that no elevator gets in your way:
Normal length: 100cm
Foldable and removable footrest
Length folded footrest: 83cm
Folded footrest length and joystick removed: 74cm
Folding wheelchair in width
For easy storage and transport:
Normal Width: 68cm
Minimum width: 37cm (without disassembling the batteries)
Height-adjustable folding wheelchair
Folding in height to facilitate loading in the trunk:
Normal height: 96cm
Minimum height: 73cm
Adjustable footrest
Foldable upwards + Foldable outwards + Removable + Height adjustable
Technical characteristics
Motor
2x340 W Sport
Batteries
2x24Ah
Max. Speed
8 km / h
Reverse speed
4 km / h
Autonomy max.
20 km
Joystick with digital display
YES
Normal length chair
100 cm
Minimum chair length
74 cm
Normal width chair
68 cm
Folded chair width
37 cm
Normal height chair
96 cm
Folded chair height
73 cm
Recommended maximum weight
110 kg
Seat base height
50 cm
Total chair weight
47 kg
Battery box weight
Integrated
Weight structure chair
46 kg
Height adjustable footrest
YES
Seat width between armrests
43 cm
Seat Depth
43 cm
Folding upwards
YES
Folding outposts
YES
Removable backrest
YES
Height adjustable footrest base
YES
Pneumatic rear wheel
40 cm
Solid front wheel
20 cm
Folding armrests
DO NOT
Leg band
YES
Adaptable right / left-handed
YES
Progressive Joystick Intensity
YES
Seat belt
YES
Hand thrust handles
YES
Back-up bag
YES
Anti-perspirant backrest
YES
Number of gears
5
Side Position Joystick
optional