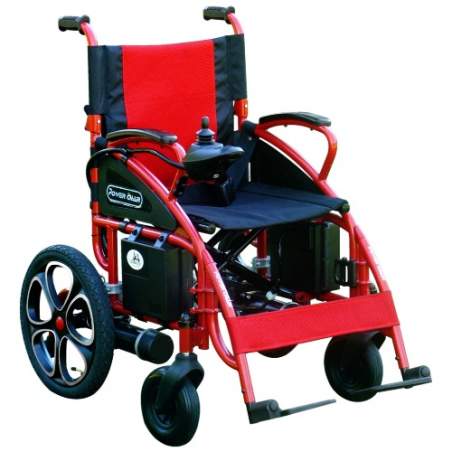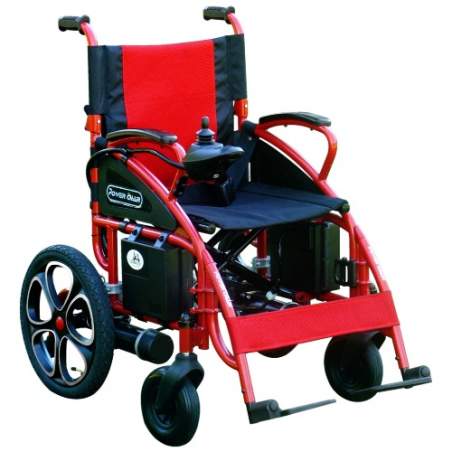  
Power Chair Sport Chair Lithium
Chair Libercar Power Chair Sport Lithium (lithium batteries 20Ah).
The most competitive electric wheelchair on the market in its Sport Lithium version. Its high performance (total weight 35kg, 340W Sport motor, 20Ah Lithium battery, 25km range, 8km / h speed, Sport alloy wheels, 40cm pneumatic tires, digital joystick with progressive intensity ...) and its great versatility (folding in width, height and length, removable footrest ...) make this chair the perfect model.

With a total weight of only 35kg and the fast folding system characteristic of the Power Chair model, this sport version (body and red upholstery, large 40cm wheels with Sport tires and black covers, 340W Sport engines ...) is a model ideal for the customer who values ​​a good design / lightness / performance / price ratio.

Libercar is firmly committed to the lithium technology that we are convinced will occupy the bulk of the market in a short space of time, replacing conventional gel / lead batteries, since it offers greater benefits in a much lower weight and volume, characteristics highly appreciated by the typology of our clients.
Lithium batteries also have a better performance (they have no memory effect, less self-discharge, they tolerate better than the customer does not charge them well ...) and a greater longevity.
Total weight chair: 35kg
Engine: 2x340W Sport
Batteries: Lithium 20Ah
Max speed 8km / h
Autonomy max. 25km
Digital display - Joystick with progressive intensity
Lithium technology: reduced self-discharge rate, no memory effect problems, less weight and greater benefits.
Multiple adjustments for your comfort: Foldable in width, height and depth. Removable footrest, foldable backrest.

Joystick with digital display Adaptable for right-handed and left-handed
5 speeds
Progressive acceleration intensity
Battery charge indicator
Acoustic warning
Seat belt Joystick companion (optional)
Bag with objects in the backrest
Levers for manual push
Padded back and cushion anti-perspirants
FOLDING IN LENGTH
So that no lift gets in your way: Normal length: 100cm Folding and removable footrest. Footrest length folded: 83cm. Footrest length folded and joystick removed: 74cm
FOLDING IN WIDTH
for storage and transport with ease: Normal width: 68cm. Minimum width: 37cm (no need to disassemble the batteries)
FOLDING AT HEIGHT
Foldable in height to facilitate loading in the trunk: Normal height: 96cm. Minimum height: 73cm
ADJUSTABLE FOOTREST
Folding upwards + Folding outwards + Removable + Adjustable in height
Technical characteristics
Engine 2x340 W Sport
LITHIUM 20Ah Batteries
Max speed 8 km / h
Reverse speed 4 km / h
Autonomy max. 25 km
Joystick with digital display SI
Normal length chair 1 00 cm
Minimum length chair 74 cm
Standard width chair 68 cm
Width folded chair 37 cm
Normal height chair 96 cm
Height folded chair 73 cm
Recommended maximum weight 110 kg
Seat base height 50 cm
Total weight chair 35 kg
Weight box batteries Integrated
Weight chair structure 34 kg
Adjustable footrest height SI
Seat width between armrests 43 cm
Seat depth 43 cm
Maximum slope 18%
Safety slope 12%
Flip-up footstow SI
Flip-up footrests to the outside SI
Removable footrest SI
Footrest base adjustable in height SI
Pneumatic rear wheel 40 cm
Solid front wheel 20 cm
Folding armrests NO
Legrest leg SI
Adaptable right-handed / left-handed SI
Progressive joystick intensity YES
Safety belt SI
Levers for manual push SI
Storage bag in back SI
Anti-perspirant backing SI
No. of marches 5
Joystick optional companion position
CE certificate sanitary product CE 93_42
ISO9001 and ISO13485 SI