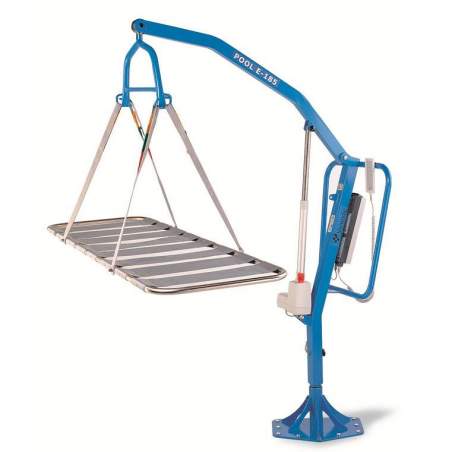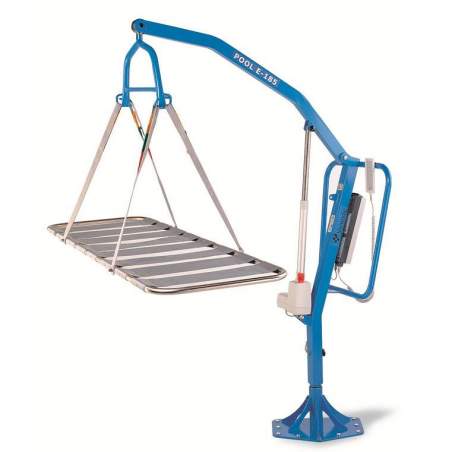  
Swimming pool crane POOL E 185
Swimming pool crane POOL E 185, indicated for the transfer of people to the pool with little or no mobility.
MAIN CHARACTERISTICS
Transfer to the pool.
Its lifting arm allows picking a person off the ground.
Easily mounts and dismounts
2 rotation bases possible:
- Anchor to the ground
- Recessed
Maximum lifting weight: 185kg.
BASIC CRANE POOL E-185
IN ACCORDANCE WITH THE STANDARD IN ISO 10535: 2007 APPLICABLE TO CRANES FOR THE TRANSFER OF DISABLED PEOPLE
• Crane adapted for patients weighing up to 185 kg.
• Transfer from the wheelchair to the pool.
• Ergonomic: picks up a person from the floor, elevation range up to 2,10m. Easy handling thanks to its wide grips.
• Robust: thanks to the materials used and the LINAK engine.
Practice:
• Designed for use in swimming pools
• 2 types of rotation bases:
- To embed in the concrete
- To screw directly to the floor
• Foldable
• Rotation of the 360 ​​° hanger
• Accessories:
- Special stretcher for swimming pools
- Special chair forTo swimming pools
Security:
• Control box with emergency stop and integrated charge indicator.
• Audible alarm: low battery indication.
• Electric and manual emergency lowering system.
• Metal structure of stainless steel coated epoxy paint
The battery is detachable and rechargeable in the crane or with an external charger (optional)
Charge indicator
Emergency stop button
Electric emergency lowering