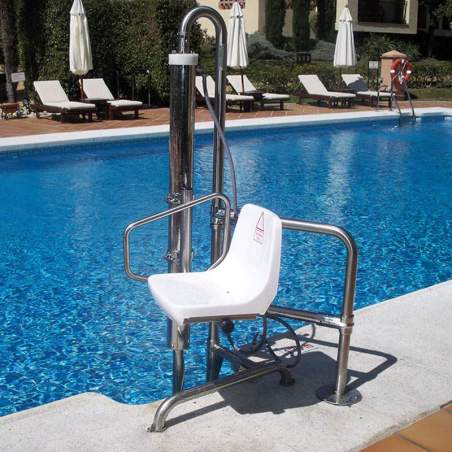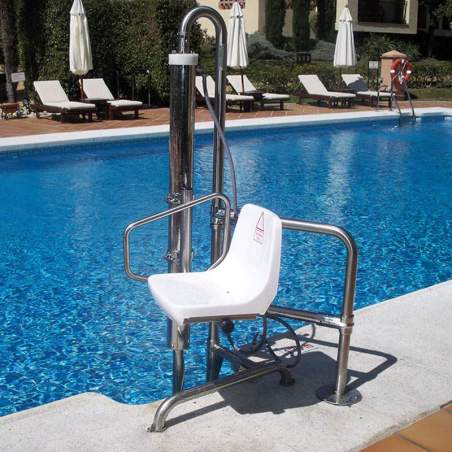  
Metalu B2 Fixed and detachable hydraulic lift
The rail and its five points of support, make METALU B-2 the most stable hydraulic elevator in the market.

Manufactured in stainless steel ASI 316.

Lifting capacity 120 or 150 Kgs.

- For its operation it is necessary a water intake with pressure to 3.5 bar.
- To raise 150 kg, you need 5.5 bar
- Turning angle: 170 °, clockwise (downhill).
- Turning radius 700 m / m.
- The drive control is located to the right of the user. (In the case of need the opposite rotation review it in the order).
- Can be operated from the inside and outside of the pool.
- The seat has a distance of 1.06 meters. And is adjustable in height,
Usually placed at +0.53 mts. And -0.53 mts. On the water level.
- Fits any pool because all fucks are adjustable.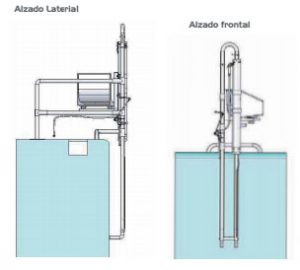 Personal Autonomy
Removable seat.
2 years warranty.
* Net weight .......................................... 50 kg
* Packaged weight ....................................... 62 kg
* Empty rise time………………………twenty "
* Rise time with 85 kg load ... 25 "
* Lowering time in empty ................................. ..42 "
* Down time with 85 kg load ..................... 20 "
* Water capacity in the piston ........................... .. ...... 8 liters